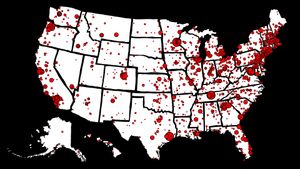 From May 25, 2020 to June 13, 2020, over 1600 public demonstrations occurred in over 1300 American cities in response to the murder of George Floyd.  Mapping a Moment, an American Road Trip Following a Monday in May is a three part project involving a virtual journey we took in the weeks following this tragedy.  This project was an effort to gain a fuller understanding of how Americans responded in public places in the aftermath of what happened on that Monday in May.  The parts consist of the following: 
1.  A video, song, and animated map (Watch below)
2.  A written reflection on the journey (Linked Below) 
3.  A collection of data detailing 1600+ public demonstrations that occurred in America and beyond from 5/25/20 to 6/13/20 (Linked Below)
Above is the video portion of "Mapping a Moment."  After watching, please consult the written reflection and collection of data linked below for more insight into this project  and the perspective it provides on how Americans reacted in public places following May 25, 2020.