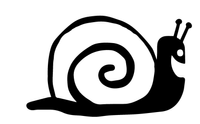 The tale of the Baker's Basement can't be told without a bucket, flipped upside down and rendered rhythmic. The Cleveland indie folk-hop duo holds close the idea that anything can produce sound & any sound can be made musical.
Since their start in 2012, when everything was basements and busking, the duo has carried with them a spirit of inventiveness. And their journey soon led them to the "Tempeh Kit" — their homemade percussion concoction built using an array of black paint buckets striped with orange and matched with more traditional drum elements. This is the duo's swingin' heartbeat: the curious rhythmic foundation that drives their personable & playful sound, most often featuring acoustic-electric guitar and their two singing voices.
These days the "Tempeh Kit" is built for standing, allowing drummer Kate Dedinsky to perform while swaying and dancing alongside guitarist Adam Grindler.  Amongst the odd-smelling mixture of evergreen and paper factory, the two met in 2011 in Chillicothe, Ohio where they began learning the art of recording.
As the winter of 2011 began to thaw, the two rejoiced in their undeniable chemistry and shared obsession for song-craft & the sculpting of sound. Adam would relocate to Cleveland from his Northern Virginia home, and so began the Baker's Basement.  Their lyrical style: conversational and playful, with their two voices often volleyed and interwoven across stage. Their stylings: indie folk, funk, & rock with a subtle sprinkling of hip hop and jazz. What might that be called?  How about Indie Folk Hop?
Always active both on stage and in studio, the duo's mid September release entitled "Wild Wild Sheep" marks their 3rd single of 2022 with more on the way through the end of the year.  This 3rd single is the title track off of their newest full length album that releases on September 30th.
The Baker's Basement has shared bills with artists such as Melvin Seals (of the Jerry Garcia Band) and Keller Williams, with a festival appearance at Nelson Ledges late September as they release their newest album Wild Wild Sheep.  TBB has also performed Cleveland's Brite Winter Festival & Ingenuity Festival in addition to residencies at Cedar Point.